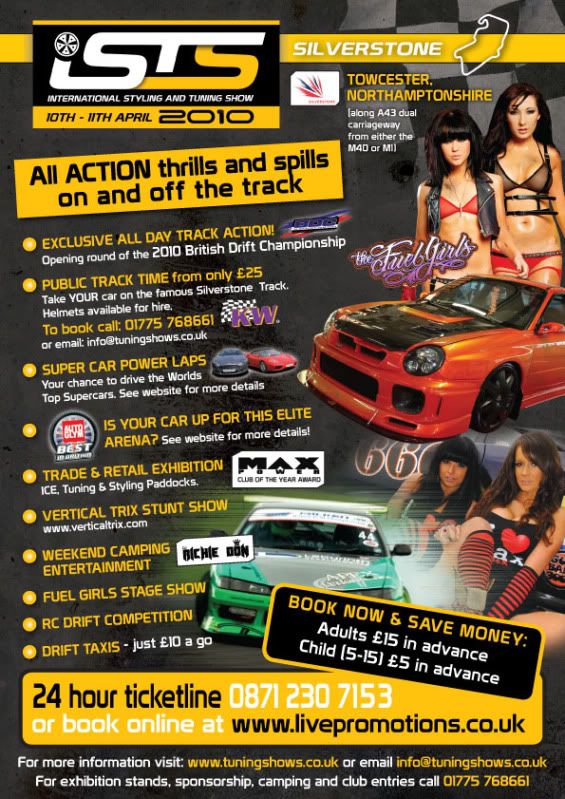 Hot off the press:
The latest ISTS news for those into cars, motorsport, music, performance tuning and styling:
2 circuits will be running independently all weekend with excellent vantage points to watch all the action.
For hardcore track fans you can purchase track time, on the KW sponsored Southern Circuit, in advance at £25 per session or an amazing £99 for 7 sessions on one day. All 7 sessions are for the same car and driver. To book call 01775 768661 ext 224.
Round 1 of BDC will be held on the Stowe Circuit. If you fancy a ride hitch a lift in one of the BDC drift taxi's for just £10.
Westfield Sportscars will also be on hand to give you a thrill with their high adrenaline passenger rides, or you can chose to go on road or off road with driving experiences.
It's not too late to register for the Autoglym Best in Britain competition. If you think you have the best modified car in the UK, setting the standard for others, please send your details to
info@auto-media.co.uk
. Closing date is 8 March 2010.
ISTS will be presenting the Best Club Stand award with prizes of £750, £500 and £250 for 1st, 2nd and 3rd. Get your thinking caps on – how will you impress the judges?
It wouldn't be a show without the Fuel Girls stage and Vertical Trix providing the action. The Fuel girls, Richie Don and the GiGi Girls will party on into the night down on the campsite!
On Sunday the Skylines will be attempting to set a Guiness World Record with the most Skylines on track at the same time ever.
For more details or to download a booking form check out the new look ISTS website
www.istsuk.com
, or contact
info@tuningshows.co.uk
.